JOIN US AT POWDERFEST (28.-30. Jan 22)
Das Freeride-Gettogether in der Silvretta Montafon ist ein Freeride Festival für Jedermann und bietet mit verschiedenen Clinics, Workshops und Touren ein vielseitiges Angebot. Sei auch 2022 wieder dabei, wenn wir uns gemeinsam auf die Suche nach den besten Lines und dem schönsten Powder machen!
Unsere Guides und Profis aus der Szene teilen gerne ihr Fachwissen und freuen sich auf ein gemeinsames Freeride Erlebnis. Das Grasjoch Gebiet in der Silvretta Montafon und das umliegende Gelände sind der perfekte Ort, um unsere gemeinsame Liebe zum Schnee zu feiern, Neues zu lernen und uns auszutauschen.
Wir sind ein Freeride Festival für Jedermann und bieten mit unseren Kliniken und Touren ein vielseitiges Angebot. Jeder kann sich seinen eigenen "Stundenplan" zusammenstellen und am Ende des Tages feiern wir gemeinsam beim Konzert oder einem Drink auf der Terrasse der Grasjochhütte.
ÜBERSICHT POWDERFEST PROGRAMM
PROGRAMM FREITAG, 28.1.2022
9.00 Uhr: Hike before you Ride: Tipps für Freerider & Skitourengeher zu den ersten fellunterstützen Abfahrten
9.15 Uhr: Skitechnik für's Steile: The Scott Schmidt Turn
12.45 Uhr: Basic Safety Academy
PROGRAMM SAMSTAG, 29.1.2022
8.45 Uhr: Fullgas Freeride Shred Snowboard
9.00 Uhr: Be prepared – Erste Hilfe für Freerider
9:00 Powderfest Freeride Session
9.15 Uhr: Drop & Ride – Freeride Jugend (10-16)
12.45 Uhr: Splitboard Intro – dein Basic Workshop zum Splitboarden
12.45 Uhr: Drill your Skills: Dein Techniktraining fürs Freeriden
12.45 Uhr: Safety Academy Advanced
13.00 Uhr: How to spin – Freeride Jugend (8-15)
13.00 Uhr: Biwak Bau
PROGRAMM SONNTAG, 30.1.2022
9.00 Uhr: Freeride Touring Day
9.00 Uhr: Split and Ride Day
9.00 Uhr: Go Steep: Einfache Seiltechnik fürs Freeriden
9.15 Uhr: Freeride Day
9.15 Uhr: Skitourenkurs für Einsteigerinnen
12.45 Uhr: Get Down: Abseilen für Freerider
POWDERFEST PROGRAMM
Beim Powderfest bieten wir für jedes Freerider Herz das richtige Powderprogramm. Freitag bis Sonntag sind vollgepackt mit abwechslungsreichen Workshops, Clinics und Freeride Days. Die Details zum Programm findest du auf unserer Facebook Seite (https://www.facebook.com/freeridestation).
Bei Fragen – just drop us a line: office@freeridestation.at
POWDERFEST SKITEST
Kommt beim großen Powderfest Skitest bei der Freeride Station am Grasjoch vorbei und testet die Modelle der aktuellen Kollektion der Marken Kästle, Nordica, Head und Atomic!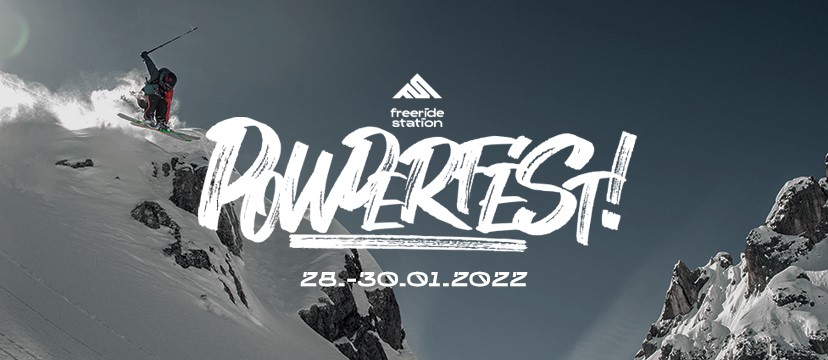 Einfach deine Clinic aussuchen und dich für diese anmelden. Wir freuen uns auf dich!
(Max. Teilnehmeranzahl pro Kurs 7 Personen/ Mindestteilnehmer 3 Personen)